Cervical spondylitis, also known as cervical osteoarthritis or neck arthritis, is a common, age-related condition that affects the joints and discs in neck. It develops from wear and tear of the cartilage and bones found in cervical spine. While it is largely due to age, it can be caused by other factors as well at any age.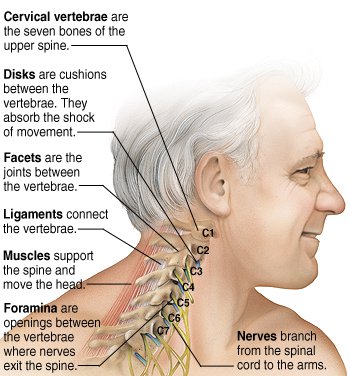 ---
Ayurvedic Description Of Cervical Spondylitis:
Cervical spondylitis can be correlated with a condition called 'Greeva graham' with cardinal feature of stiffness of the neck and is explained as a Vata condition in Ayurveda. The vitiated Vata leads to the depletion of body tissues. The dryness and degeneration caused by Vata leads to the imbalance of Kapha Dosha. The Sleshmaka Kapha is responsible for cushioning in between bone joints. Hence disc degeneration sets in leading to spondylitis. In some of the ayurvedic texts, it has been compared with another condition called Vishwachi/Apabahuka.
---