Rheumatoid arthritis or (RA) is regarded as one of the serious, painful, and disabling of all the forms of arthritis. It usually begins between the ages of 20 and 40. The women are 3 times more likely to get affected by RA than men. It affects hands, wrists, elbows, shoulders, knees, ankles, and most often in the same joints on both sides of the body. It is characterized by the inflammation in joints and tendons. In inflammatory arthritis, the synovial membrane becomes swollen and inflamed which cause pain and stiffness in the joints. The inflamed tissues increase the blood flow to the joints, causing them to look red and warm when touched. The patients with rheumatoid arthritis try to hold the affected joints in a fixed position, just to reduce the pain. This makes the surrounding muscles near the joints to get stiffen and weaken. The tendons get tighten and joints may change the shape and patients may eventually lose mobility. This is an autoimmune disease where the body's disease fighting immune system attacks its own healthy tissues. In RA, the immune system attacks the synovial membrane and the inflammation can lead to severe joint/s damage, which may eventually restrict a patient's mobility.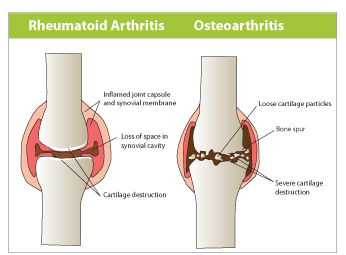 Ayurvedic Description Of Rheumatoid Arthritis :
Rheumatoid arthritis in Ayurveda is known as Aam Vata. The indigestion leads to the Aam formation (indigested particulars) in the body and when Vata gets aggravated, this Aam gets circulated in the whole body, the Aam moves upon reaching the sites of Kapha (stomach, throat, joints, respiratory system etc.) produces abnormality in these places. Both vitiated Vata and indigested particles together produces abnormalities in the gastro intestinal tract, joints and lower back. It produces stiffness in joints and called as Aam vata (Rheumatoid Arthritis).