Urticaria or Hives is an allergic disorder of the skin. It is characterized by the sudden or repeated appearance of wheals, irregular, round skin lesions accompanied by inflammation and itching. It usually appears on the covered areas of skin, but rarely on the palms, soles, or scalp. Though it is not life threatening in most of the cases but it does pose a great bit of discomfort along with affecting the quality of life. It usually lasts from few hours to few days and skin does not any severe changes in it.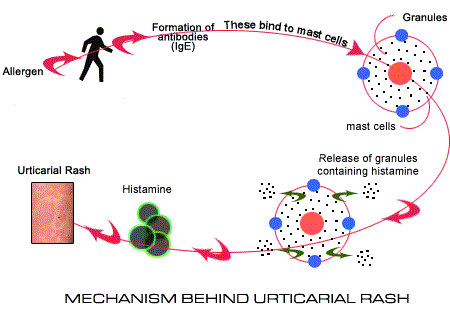 Ayurvedic Description Of Urticaria :
In Ayurveda, the condition of urticaria can be co-related to Sheeta pitta. The condition of Sheeta pitta has two words, Sheeta and Pitta. The word 'Sheeta' means cold and 'Pitta' refers to warmth. The dominance of Vata and Kapha over Pitta is observed in this condition. Both Vata and Kapha due to their aggravating factors mixed up with Pitta dosha, red rashes with itching, burning sensation appear on skin.