OUR APPROACH - COMPLETE CASE MANAGEMENT
Ayurveda defines health as a state of equilibrium of doshas (regulatory and functional entities of the body), dhatus (structural entities), mala (excretory entities) and agni (digestive and metabolic factors). A diseased state means that there is some imbalance of body equilibrium, its essential constituents along with an accumulation of unwanted elements in the body. At 'Aas Ayurveda', our focus lies in to regain this lost equilibrium of the body by our approach of 'Complete Case Management'. The primary and main objective of complete case management is to achieve this lost body equilibrium. The following process helps the patients to regain their health-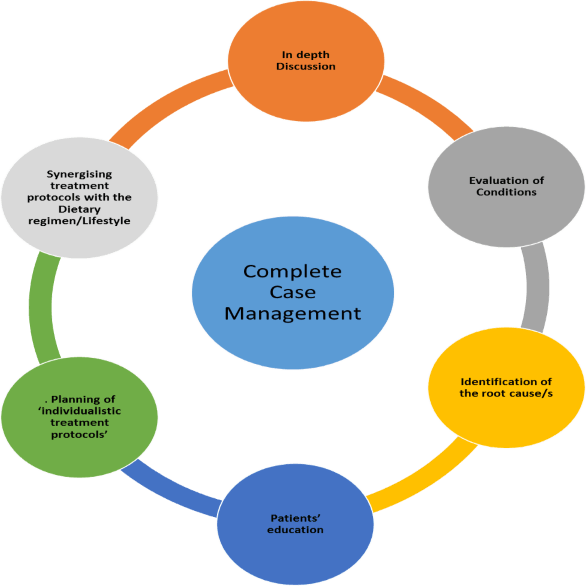 IN-DEPTH DISCUSSION
The patients often find themselves in situations where they have a very brief interaction with doctors, narrating their problems and the doctors handing over them a prescription of medications. We fill this gap of collecting superficial information while imbibing the maximum information from the patients as we engage deeply and spend quality time with patients and seekers come to us.
EVALUATION OF CONDITIONS/AILMENTS
We do the complete 8 folds or 'Asth Vidh' examination of our patients so that there would not be any chance of skipping any important details of the conditions troubling them. This process enables us to evaluate the signs, symptoms and severity of the conditions in great details.
IDENTIFICATION OF THE ROOT CAUSE(S) OF THE CONDITIONS
Based on the evaluation of condition/s, the next step is to identify the cause/s of the condition/s. According to Ayurveda, there can be one or multiple causes of the diseases and it ranges from aggravation of doshas in the body to any lifestyle issue.
THE PATIENTS' EDUCATION
At 'Aas Ayurveda', a great deal of time is spent on the education of patients describing as what happen to them, how it happened, and what line of treatment is best suitable for them keeping their body constituents in consideration for speedy benefits.
PLANNING OF INDIVIDUALISTIC TREATMENT PROTOCOLS
Every human being has a unique psychosomatic constitution called 'Prakarti' in Ayurveda. The concept of this unique body constitution forms the basis of designing 'Individual Treatment Protocols' for our patients.  The entire treatment protocol serves well in sync with the patient's age, body's constitution, severity of the medical conditions and other personal details.
SELECTION AND SYNERGISTIC TREATMENT PROTOCOLS WITH THE BEST DIETARY REGIMEN AND LIFESTYLE
We design and synergize the Individual Treatment Protocols for every patient who seeks our consultation and this includes not just a prescription of medications but a complete health plan that has best Dietary Regimen, Lifestyle Management plan for the patients during the course of treatment, in convalescence phase and a complete guide to live a healthy life ahead.