Agnikarma Treatment For Pain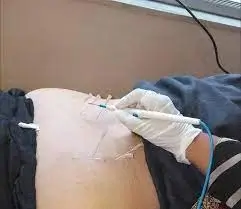 Agnikarma is an ancient pain-healing therapeutic procedure that dates back centuries and was common in Indus and Chinese civilizations. Some 2500 years ago, Maharishi Sushruta who is known as the father of modern surgery documented the efficacy of Agnikarma in various musculoskeletal disorders in Sushruta Samhita.
In the realm of the traditional system of medicine, Agnikarma has gained attention as an effective treatment for multiple types of pain. This procedure has been utilized for centuries to address a range of musculoskeletal conditions, including joint pain, arthritis, tendonitis, and neuralgia. 
With the increasing use of modern medicine in the 20th century and the easy availability of oral medications for pain relief. Agnikarma was almost forgotten until recently but as the technology is breaking old and new time barriers, the Ayurvedic Vaidyas are using it now in their medical practice and offering patients sustainable and long-lasting results.
The adverse effects of painkillers also have made common people think of healthy alternatives to painkillers that affect body organs directly. 
The process of Agnikarma (which can be achieved with various modern or traditional methods) involves the controlled application of heat or cauterization on certain specific points of the body for pain relief. This crisp blog will explore the principles of Agnikarma procedures, health benefits, and potential risks associated with it.
Understanding Agnikarma
Agnikarma, derived from the Sanskrit words Agni (fire) and karma(procedure), is a non-invasive technique that employs heat for pain relief. Agnikarma works on the principle that when controlled heat is applied to specific points in the body, it stimulates nerve endings, releases endorphins, and promotes natural healing.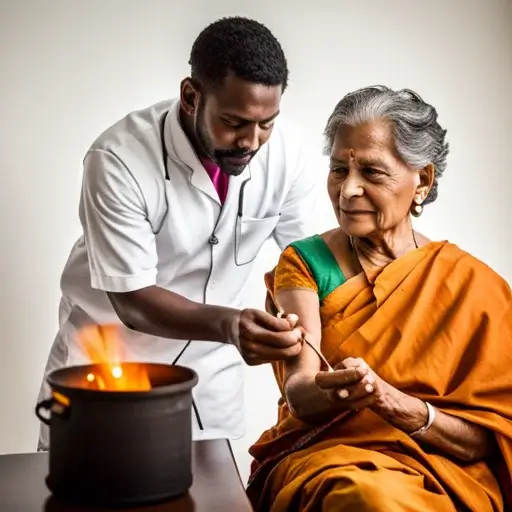 The Procedure
Diagnosis: Before initiating Agnikarma, a qualified Ayurvedic physician assesses the patient's condition and identifies the precise points on the body that require treatment.
Preparation: The treatment area is sterilized to minimize the risk of infection. Local anaesthesia may be applied to numb the region and ensure a painless experience for the patient.
Heat application: A specialized tool, typically made of metal( Shalaka) or bamboo, is heated in a controlled flame until it reaches an optimal temperature. The heated instrument is then gently pressed onto the predetermined points on the body, creating a mild thermal injury.
Duration and Repetition: The duration of heat application varies depending on the specific condition being treated. It typically ranges from a few seconds to a couple of minutes. Multiple sessions of Agnikarma may be required at regular intervals, depending on the severity and chronicity of the pain to bring long-lasting and sustainable results.
Benefits of Agnikarma Treatment
Pain relief: Agnikarma provides effective and targeted pain relief by stimulating nerve endings and triggering the release of endorphins, the body's natural painkillers.
Enhanced healing: The controlled thermal injury induced by Agnikarma promotes blood circulation, accelerates tissue regeneration, and supports the body's healing process.
Non-invasiveness: Agnikarma is a non-surgical procedure that does not involve incisions or the use of chemical substances, making it a desirable option for individuals seeking alternative, non-invasive treatments.
Versatility: Agnikarma can be used to address various types of pain, including joint pain, muscular pain, ligament injuries, and nerve-related conditions.
Holistic approach: Ayurvedic medicine emphasizes the importance of treating the body as a whole. Agnikarma aligns with this philosophy by considering the patient's overall well-being, taking into account their lifestyle, diet, and other factors that may contribute to their condition.
Potential Risks and Considerations
While Agnikarma is generally considered safe when performed by experienced practitioners, there are some risks and considerations to be aware of:
Risk of infection: Proper sterilization techniques must be followed to minimize the risk of infection at the treatment site.
Burns and scarring: In rare cases, Agnikarma may cause burns or leave behind scars. This risk can be mitigated by ensuring the practitioner is skilled and experienced in performing the procedure.
Allergic reactions: Some individuals may have allergies or sensitivities to the materials used during Agnikarma, such as the anaesthesia or topical substances applied before or after treatment. It is crucial for the patient to inform the practitioner about any known allergies beforehand.
Individual suitability: Pregnant women, individuals with open wounds, severe bleeding disorders, or compromised immune systems should be dealt with extra precautions considering this treatment.
Conclusion
Agnikarma as discussed above; offers a holistic approach to pain management. With painkillers bringing a lot of adverse side effects, patients must think of adopting this ancient treatment modality to find a natural cure for their treatment.
Opting for Agnikarma treatment along with Ayurvedic medicines, and other treatment modalities such as leech therapy, and Basti treatment can bring excellent health results. Agnikarma treatment has shown promising results in managing scores of pain issues that even go untreated in modern medicine.
Adding Agnikarma to the practice has helped me in addressing multiple types of spondylitis, low back pain, sciatica, arthritis of varied types, osteoarthritis, trigeminal neuralgia, migraine, heel pain, tennis elbow and even fibromyalgia.
At Aas Ayurveda, we use a specific type of Agnikarma referred to as Vidh-Agni Karma which has a huge advantage over the traditional Agnikarma which sometimes leaves scars on the body which is not the case in Vidh-Agni Karma. 'Vidh'Agni' is safe, and quick and we can control the amount of heat we transfer to the painful areas of the body.