Unlock yourself and Live healthy in this 'LOCKDOWN'
As I write this blog to you, I sincerely wish you are doing great, and the gloom of things happening around is not taking a toll on your mind and body.
There is a famous quote in English that says 'Tough times do not last, but tough people do.'
What if this too has some blessings in disguise and like every good or bad thing life, this too shall pass.
What you go through give you something to grow.
I am not going to make this blog a philosophical one with all 'Gyaan' which you may or may not require or receptive to take, but I am making a small list here for you that you can start practice in next 21 days.
And before this new and nasty virus settles down profoundly in your subconscious mind. I have a better meme for you to forget 'CORONA' and remember this Indian VIRUS from Bollywood, which I am sure you would have seen before and have made you laugh some years back.
So, cut the cord with 'Corona' and look at this virus Indians admire till now.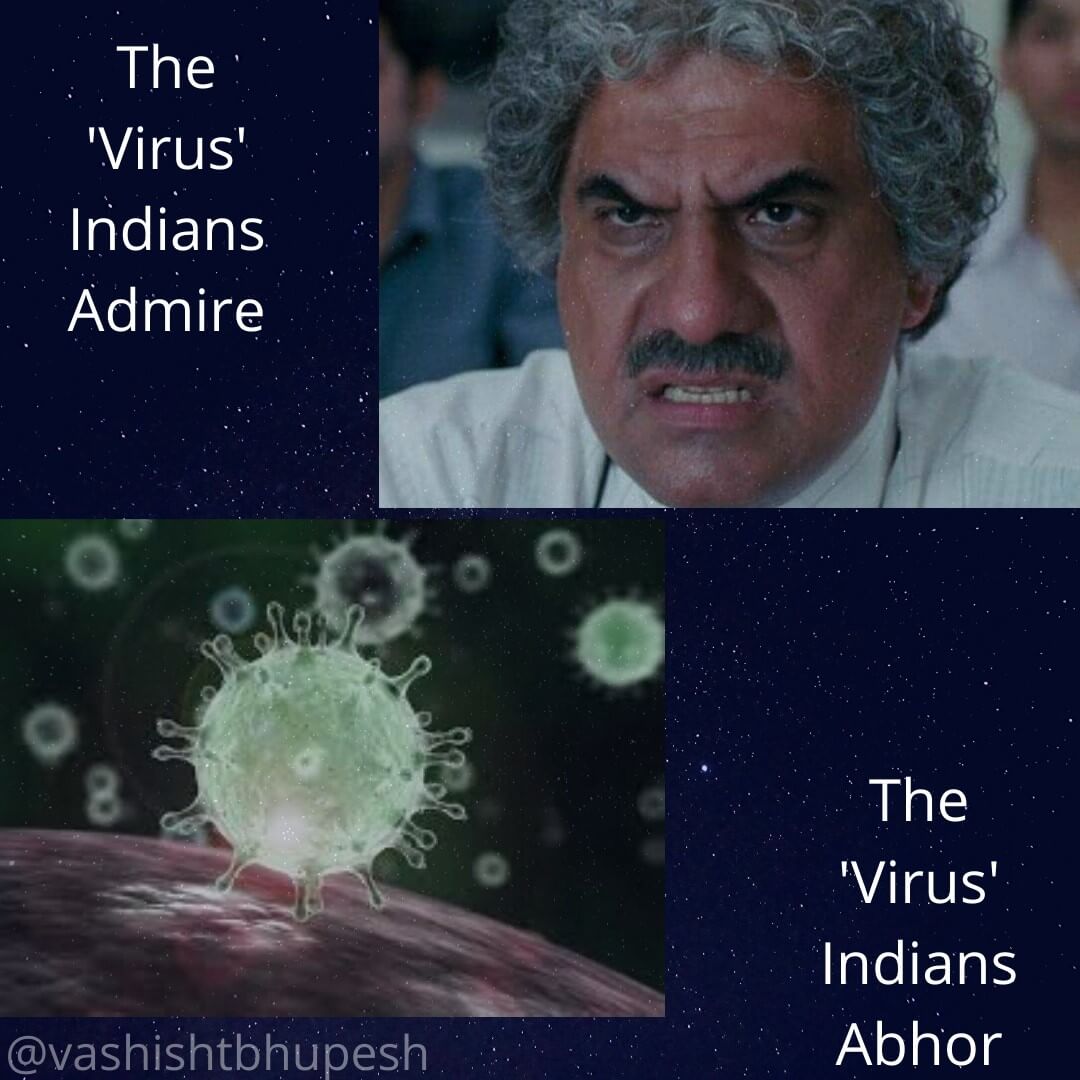 Now, the real deal, as various studies tell us that it requires the sincere efforts of 21 days to make a routine.
So, if you already have a habit, it is time for you sharpen it more and if you don't have it, find a healthy habit. So, what should you do in these 21 days and why these 21 days can help you in achieving your personal and professional thing that you have kept on halt before this lockdown.
1. Find a routine- Have a habit, no matter how boring it is. Practicing this daily would help you to move towards your goals as consistency is more important than perfection. So, today is the best day and right now is the best time. A healthy routine, say waking up early will help you in getting daily dose of serotonin which will eventually keep you happy. Always do remember, happy people are healthier!
2. Renounce your bad habits- Make a list of the practices and patterns you want to give up, it could include waking up late, that itch of eating injudiciously, skipping a daily workout. We all are victims of our habits as weakness lies in the mind not in body. Your emphasis should be to cut down your bad habits in next 21 days which would prepare you for rest of your life.
3. Adoption of healthy habits- On the regular days, I ask my health seekers to follow the 3R approach with 'Read, Run and Relax'. This '3R' technique, I first learnt from Akash Gautam- Motivational Speaker and Happy guy almost 10 years back and it has been working for me since then and could well work for you as well efficiently. But since it is a lockdown out there, and you can't go out for a run, you can still do a workout at home with putting more efforts on adopting 1st and 3rd 'R' in your routine. Let me further help you with more healthy habits that you help you in these 21 days:
a) Meals- if you are stressed because of the happenings around which you could be rightly so, the chances are that you tend to binge these days. We are staying (NOT LOCKED) in our homes and very near to our fridge that could possibly be having frozen snacks, ice creams, and dark chocolates etc. All this stuff could give you a sense of eureka for a moment as they uplift the level of serotonin in your body, but the consequences of binge eating would remain here even when the lockdown would be over. So, eat judiciously with HEALTHY and SMALL portion-controlled meals only suiting to your body constitution if possible.
b) Addictions- Though wine shops are closed but if you have already stocked piled on your quota. There is absolutely no need to consume it every evening. The world would survive and so do you to toast it with your friends soon. And if you are thinking of renouncing the addictions of alcohol and smoking, it would be good for you to know that the later increases the chance of developing an infection at least 12-14 times. So, this 'lockdown' is the best time to renounce it. The alcohol too does not have any safe limit as claimed by the paid and promoted studies across the world, but it is undoubtedly unsafe for the body's immunity. In Ayurveda, the qualities of alcohol are exactly opposite to the qualities of immunity(Oja).
c) Workout- Don't sit idle as lethargy and sedentary lifestyle would take months to eschew if you get affected by them in these 3 weeks. The bad habits die hard and no way this should come near to you, instead, your efforts should be to increase the duration and intensity of your workout. For example- if you are doing 10 Surya-Namaskar every day, you should take it to 15 by the end of the next 10 days and to 20 Surya-Namaskar by the last 10 days. You can do the same with your daily push-ups and abs crunches. Also, do some flexibility exercise. Engage with kids at home, play their games with them, most importantly, do not yell on them as you attend your conference calls, e-meetings while working from home. Please remember, it is their home that you are using as your office. So, be empathetic with everyone around.
d) Elders' care- 'Geriatrics' as we call it in the modern science that deals with the care of elders by the specialized trained doctors but we all know that it is our responsibility to take care of our elders now like never before. My professional practice gives me the chance to interact with elders who have co-morbidities like Diabetes, Hypertension and Renal disorders. They are currently living with one more anxiety about being in a high-risk category. But, you can balm this anxiety by not keeping them in mental isolation. If your elders and parents are living far away from you, it is the right time for you to make them daily calls and send them the best vibes and energies. Our 'World' is made of 'Words', therefore, choose the better words and do 'Mangal-Maitrey' (prayer for well-being) for them every day.
e) Immunity- With all kind of fast forward messages from the likes of Pammi Aunty (Hope she is not reading this) giving home remedies gyaan for having Aloe-vera, Giloy, Aanwla, Lemon with Black pepper, all together or separately.
It is absolutely imperative to know your 'Prakriti' or body constitution for you to follow a home remedy as Ayurveda is very individualistic in nature, and one shoe doesn't fit all. So, consult your Ayurveda doctor who can actually guide you with what you should have and what you shouldn't. Like every good thing, immunity too takes time to build and eating healthy with a healthy routine can only help you.
Lastly, find a blessing in this disguise, do what you have been postponing from days, weeks, months, and years. Be an eternal optimist as no BATTLE has ever won by people with heads down.
UNLOCK your healthy spirit in this LOCKDOWN and may you EMERGE out as a winner.
This blog is written by Dr Bhupesh Vashisht, Founder- Aas Ayurveda. The advice and recommendations given here are general and do not substitute a medical opinion in case of medical needs.