Do not! Just Do Not Gift 'Diabesity' To Your Kids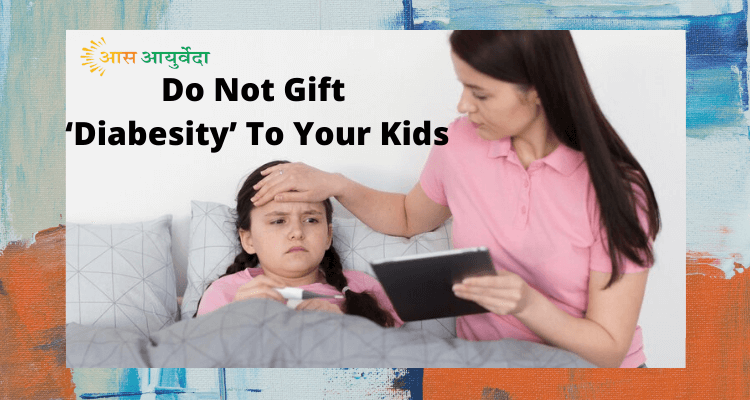 Science, way back, has established the theory of inheritance of traits passing from one generation to another through genes and, similarly, the likelihood and risk of certain diseases. This increased likelihood of developing a particular disease based on a person's genetic makeup is called as genetic predisposition or susceptibility. And this genetic predisposition results from specific genetic variations inherited from parents. However, these genetic changes contribute to the development of a disease but do not directly cause it. For example, a sibling inherits a disease from a parent while other/s will never be within the same family.
We get our physical traits and visage from our parents. If I assume you as a parent reading this blog right now, you must also have solid plans to gift your child some beautiful and meaningful things. And this could be excellent education, great career guidance, and building their financial fortunes. But have you given any thoughts on their physical health and mental well being that your current habits would unknowingly be giving them?
Let us not keep this blog philosophical and know some facts that can illustrate the importance of parents to strive for a healthy life(style) continuously-
Family history is often one of the most decisive risk factors for common diseases such as cancer, cardiovascular diseases, autoimmune disorders, diabetes, Obesity and even psychiatric illnesses.
Children with parents having type-2 Diabetes are more predisposed to having diabetes. The risk of type-2 diabetes becomes higher if the mother rather than the father has diabetes. If both parents have diabetes, the risk factors increase to about 70%.
Overweight parents have an 80% chance of transferring Obesity to their kids. Being obese is one of the leading causes of diabetes, hence 'Diabesity', a modern term that defines diabetes and obesity conditions together.
Kids' dietary habits are directly related to their parents, for parents are the first ones they see eating, drinking and replicating, and these habits develop very early in their lifetime. You can't do much with genetics, but you can do a lot with the environment around you. If our environment makes us angry, happy, starved humans or binge eaters, the same environment can also make us healthy if we know how to make it.
Go back to the 90s when junk food was not readily available like it is now in your fridge or mobile applications. We relied on homemade snacks instead of binging junk every evening, day, and weekend. In the last 20000 years, our gut has not changed much, but our food habits have changed drastically and dramatically in the last 20 years. We eat more packaged and processed foods than pure, naturally sourced meals.
Our meals are coming from malls and not from the farms. So, if you, as a family chef, decide not to make meals that can expose your kids to diabetes, it will be an excellent service to them. As the procurement manager of your family, if you decide not to bring the stuff containing excessive salt, sugar, and fat at home, which is detrimental to your kids' health, including yours.
How Can You Help Yourself?
Lose weight if you are obese. The last right time was yesterday, and the next right time is 'Today'. A year from now, you would wish that you had started a year back.
Calories are important, but even more important is nutrition. So, eat meals that provide nutrition to your body, not merely calories. Choose the healthy source of your calories and nutrition.
Don't bring those meals to your home that you know are unhealthy for you. You and your child would not see it, and you would not have it. Well, this is simple. You can do it. Out of sight will lead to a situation that it would not come to mind.
Decide your days of cheat meals with mindfulness and burn them with all might. The body does not run with mathematics alone. It would still help you burn than just accumulating all the time, but your cheat meals should always be defined by your days of effort and not just crave.
How Can Ayurveda Help in Keeping Diabetes at Bay?
The three principles of Ayurveda, namely- Aahar( diet), Vihar(lifestyle), and Ausadh( Personalised Medicines), successfully help in the reversal of the disease.
And suppose you are a parent struggling to beat obesity, diabetes or unthoughtful eating habits. In that case, it becomes imperative to eat foods that keep the risk of diabetes at bay follow a lifestyle that paces up your fight to reverse diabetes.
The foods having simple carbohydrates, for example- bread, biscuit and beer, are prohibited for people with diabetes and should be a 'No-Go' zone for them. Similarly, foods that form excessive mucus in the body and clog the body's cells which impedes insulin's action on them, are also to be curtailed down to the maximum.
Diabetes and Obesity do not come alone. They bring several other medical conditions together, which are enough to frighten your mental peace in the later years of your life. And if you are still taking it lightly and postponing your goals of getting a healthy weight and sugar levels, you must know the late you start, the more difficult it will become to contain these two.
Diabetes Mellitus or Type-2 is reversible, and the key lies with you to unlock it, reverse it, and make your children aware of the condition from the very start when you were first diagnosed with it. To keep a wary eye on their health and become an example in their eyes to beat the blues of raised blood sugar.
It is best to lose weight to keep 'Diabesity' away, which is becoming an epidemic now. If you are obese, you need to lose weight without any second thought, and you need to minimise the consumption of the meals types that are causing your sugar levels to be high. These two wise acts can keep you healthy and create a healthy environment around you to transfer healthy genes to your coming generations.