Authentic Ayurvedic Centre for Chronic Diseases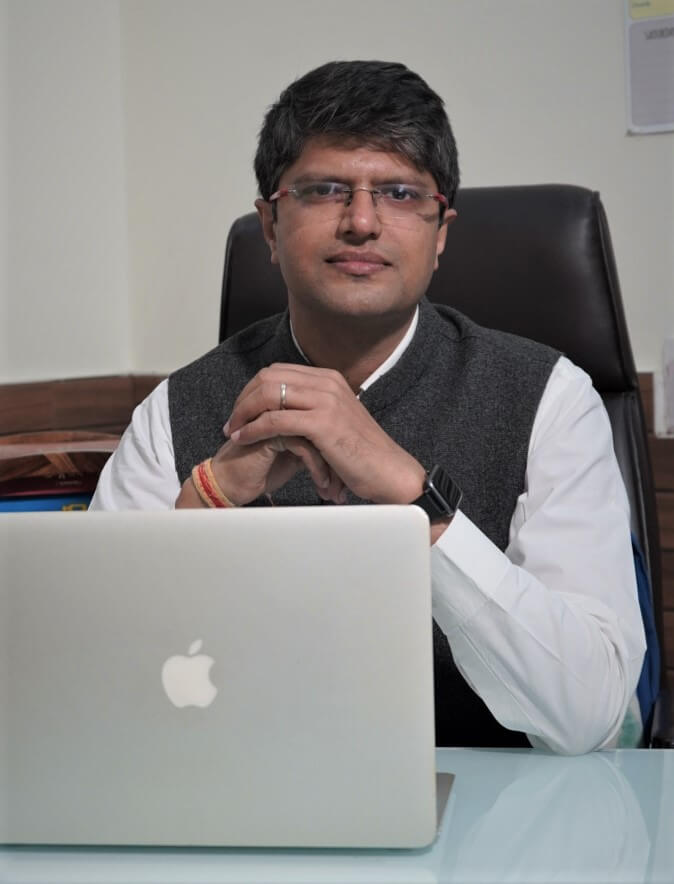 Dr. Bhupesh Vashisht
Chronic Diseases Specialist
Dr Bhupesh Vashisht is the crucial driver behind the genesis of 'Aas Ayurveda'. He has prodigious medical counselling skills and treating patients with RasAushidhis, Panchkarma, Naturopathy and Ayurvedic dietary regimen. His clinical experience with chronic conditions such as Chronic Pancreatitis, Diabetes mellitus, Pancreatogenic Diabetes, and various pain and age-related degenerative disorders backs him to treating these grieving medical illnesses.  
Help patients by educating them to know which is good and bad for their health and how they can keep themselves healthy even from medicines from their kitchen.
It is believed that medicines treat patients but contrary to this belief, it is the doctors who treat patients. At Aas Ayurveda, we prescribe a patient that heals his/her physical body and mind and ensures a healing engagement at every step.
In this populated world where doctors do not spend quality time hearing the woes of their patients. We at Aas Ayurveda, ensure the patients are fully heard before planning anything for them.
The dedicated Ayurvedic professionals with a combination of youth, experience, and dynamism have conceptualized 'Aas Ayurveda'. The organization aims to treat its patients with the traditional system of Indian Medicines at its Ayurvedic treatment centres. 'Aas' stands equal to the word 'Hope' in English. 
We at 'Aas Ayurveda' stay committed every day to transform this hope into the reality of a healthy, happy and disease-free life for the people who seek treatment from us. 

Diabetic Neuropathy
Diabetic Foot
Skin Ailments


Anxiety
Schizophrenia
Alzheimer's Disease

Alopecia
Dermatitis
Berger's disease
Jalokaavcharan( Leech Therapy)
I have had diabetes for 2 years and the sugar level was 450mg/dl. My physician suggested taking insulin injections initially for a month then diabetes tablets daily for my entire life. Which I had started but I used to have cramping muscles with low energy. Then I came into contact with Dr. Bhupesh Vashishtha of AAS Ayurveda, he advised me on a diet lifestyle with some exercise and ayurvedic medicine program which helped me to control my sugar levels. Now after 6 months of this lifestyle my Fasting blood sugar levels are between 100-120 mg/dl. I feel better and rejuvenated. No cramping muscles or low energy. With the help of Dr. Bhupesh I am absolutely fine now. I am not taking any medicine for diabetes neither ayurvedic or allopathic. I am living a normal life without diabetes... Thank you AAS ayurveda. I'll definitely recommend AAS ayurveda to any health seeker.
"With intense gratitude, i am writing these words for 'Aas Ayurveda' that saved me from undergoing an unavoidable surgery. In May 2015, I was diagnosed with a mobile calculus of 7mm in my gall bladder. I was asked to undergo gall bladder surgery by the physician who advised me for the ultrasound. It was around that time, I approached 'AAS Ayurveda' if they have some cure for this as I have read somewhere that these stones can be removed with some Ayurvedic medicines and special diet plans. I was given a dietary regimen along with a prescription of herbal medications, which I was advised to follow for the next 10 days. Following this 10 days protocol period designed for me, I was asked to undergo for the ultrasound again. To my great surprise, the stone in my gall bladder was not there anymore. It was flushed away. I express my heartfelt thanks to the ever approachable and empathetic team of 'AAS Ayurveda' for saving me from a surgery and most importantly; an organ of my body."
"The best thing about Aas Ayurveda is their commitment towards their patients. They are always easily approachable and engage deeply with their patients. I would like to thank Aas Ayurveda and their doctors for helping me with a treatment to beat the condition of acne. Actually I had been suffering from acne and pimples on my face from last few years and took lot of allopathic treatment but nothing worked. I got to know about Aas Ayurveda through one of my friend and contacted them. The treatment from Aas Ayurveda really helped me to get rid of acne which I thought once was not possible for me. I see them in great regards for the wonderful services they are providing to their patients."
"My tedious and tiring working schedule of my job and meetings was keeping me away even from my daily water intake which I only observed when I was asked to submit a detailed case registration form by the team of Aas Ayurveda. I was following a very bad life style with no focus on my dietary habits though I always thought I have been taking healthy food but seldom I noticed it about its nutritious values. Here, Aas came to my help that helped me to manage my diet, work and even exercising schedule. I got the problem of GERD and acidity for which I started to take anta-acids at my own that provided me some initial relief but not after some days. Aas Ayurveda planned my treatment and dietary regimen along with my daily workout schedule. The plan was very detailed and elaborative that showed its results only in 10 days. Big thanks to the entire team of Aas Ayurveda!"
"I took detoxification and overweight management plan from Aas Ayurveda, It was just awesomely cherishing, and something I would call ineffable experience for me to put in the words here. I have never felt so light and yet so full. The plan was suitability customized for me so that I did not feel hungry anytime during my day at office. Dr. Bhupesh Vashisht has been very kind and supportive through out this time. He has guided me well about all the details of the plan, my body constitutions, requirements of body. He also helped me to get over of so many myths I was carrying about diet and weight loss. I have lost around 3.5 kgs in 10 days and surprisingly did not give up food at all. Once again, I extend my heartfelt thanks and gratitude towards the team of Aas Ayurveda and wishing them all the very best for their future endeavors of guiding people towards a healthy journey."
I m suffering from PCOS from past 11 years. I was on allopathy medicines and was really going through hormonal changes, felt sleep deprived everyday. I came across Aas Ayurveda, changed my diet and my medicines into Ayurveda and to be very honest in two months I saw the change and my cycle is regular now. In PCOS diet is really important and so as a good dose of Ayurveda medicine which will never have a side affect on your body. Thanks to Dr. Bhupesh. He is an awesome doctor, who really takes efforts to keep people healthy. Highly recommend!
I'm writing to express my gratitude for the wonderful treatment I received from Aas Ayurveda this month. Months ago, I was diagnosed with acute pancreatitis and sludge and stones in gallbladder.Many pancreatitis attacks happened during that period and the pain was severe and unbearable. I was admitted in some of the best hospitals but again after many frequent attacks, exorbitant bills, hundreds of injections and IV fluids and many more tests and scans,I got nothing but more disappointment and depression. When I was going through the toughest times of my life,the only fortunate thing happened to me,was when I got to know about Aas Ayurveda. I was extremely lucky to get an appointment with Dr.Bhupesh Vashisht Sir.He was very helpful, cooperative and kind during the entire treatment.Suffering from pancreatitis and not finding any permanent treatment solution was very depressing and tough but doctor turned my fear of illness into trust in recovery. Results of the treatment were better than I expected!Not only the stones and sludge of the gallbladder flushed away but the inflammation of the pancreas was totally gone.The word pancreatitis got erased from my reports and my life also. His comforting and motivating words of support gave me the inner strength to fight it away. I'm really thankful to Dr. Bhupesh Vashisht Sir and his Aas Ayurveda team for their professionalism, hard work, and commitment in providing excellent medical care.
I would like to thank AAS ayurveda for the amazing health journey which i did with them and still i am doing 🙂 My individualistic regimen helped me a lot to overcome my Migraine issue that has been a long trouble for me. Apart from that i was facing skin problem and gyane related issues. Since last 3 months, there has not been a single episode of headache and other issues. I look filter and better with a skin, which like never before and its still in process 🙂 I specially thanks to Dr. Bhupesh, who helped me a lot with my every single query. He is very dedicated and very helpful with his "health seekers" So thanks a lot!