Psoriasis is a chronic recurring disease of the skin. It is characterized by the appearance of plaques, patches, or papules on the surface of skin. The lesions are usually slightly elevated above the normal skin surface, sharply distinguishable from normal skin, and red to reddish-brown in color. They are usually covered with small whitish-silver scales that adhere to the underlying eruption and, if scraped off, leave bleeding points. The extent of the disease may vary from a few tiny lesions to generalized involvement of most of the skin where the elbows, knees, scalp, and chest are involved. It is an autoimmune and long lasting immune disease.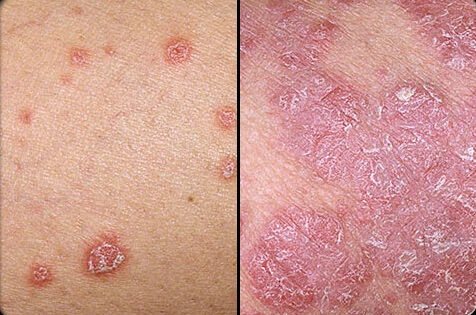 Ayurvedic Description Of Psoriasis :
According to Ayurveda, psoriasis is known as Visarpa and appears due to imbalance of Vata and Kapha. The accumulation of toxins occurs when Vata and Kapha manifest in the skin. These toxins accumulate in deep tissues like Rasa (nutrient plasma), Rakta (blood), Mansa (muscles), and Lasika (lymphatic). These toxins cause contamination of deeper tissues, leading to Psoriasis.