Kidney stones are small, hard mineral deposits of calcium oxalates and uric acid that form inside the kidneys. These can be found anywhere in the urinary tract. When the urine has a high concentration of minerals, which gets stuck together to form stones. There are no symptoms until the stone moves around and blocks the tubular passages. The concentration of minerals being more than what the fluid component of urine or the lack of substances that prevent crystal formation are two reasons that contribute to stone formation. Most kidney stones are formed of calcium stones, usually in the form of calcium oxalate and phosphates. People who do not drink enough water or are suffering from gout can suffer from uric acid stones.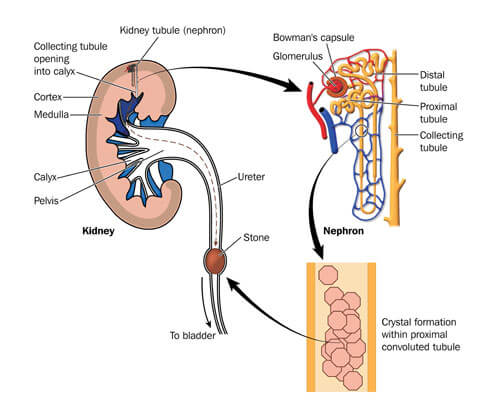 Ayurvedic Description Of Kidney Stones :
In Ayurvedic literature, kidney stones are referred as Mutrashmari. Mutra means urine and Ashmari means stone. The basic causative factor for Mutrashmari is tridosha aggravation. When Vata is accumulated in the Vasti (urinary bladder), due to its Ruksha guna (dry- rough quality), it stimulates to dry up Mutra, (Urine), Shukra, converted to urine crystals. The Kapha dosha is Guru (dominant), Snigdha (oily), it builds up the crystals together to form stones.
Due to the above factors, the urine gets concentrated and its acidity increases. The reduced quantity of urine, leads to increased dryness, sedimentation of salts, obstruction of urine flow and
leading to stones formation. It results in painful urination. Often, it is associated with burning sensation. As the muscular tone is reduced, fatigue is complained in the localized area, pain is found in the nearby parts like bladder, flanks, back, urethra etc.