A migraine headache is the pain, which is very severe throbbing or a pulsing sensation, usually on just one side of the head. The pain gets worse by any physical activity. The migraine attacks can cause significant pain for hours to days and can be so severe that the pain disables the individual from doing productive or daily tasks. Not all headaches are migraines as other headaches can also cause severe pain. Some patients tell that the pain of cluster headaches as the worst pain they have experienced. The exact cause of migraine is not known but changes in neurotransmitter levels within the brain are thought to play a role. The typical clinical signs and symptoms help in making the diagnosis of migraine.
Migraines often begin in childhood, adolescence or early adulthood. Migraines may progress through four stages: Prodrome, Aura, Headache and Post-drome, though it is not necessary to experience all the stages.
Prodrome
One or two days before migraine, subtle changes are noticed that warn of an upcoming migraine. This includes constipation, mood changes, from depression to euphoria, food cravings, neck stiffness, increased thirst and urination andfrequent yawning.
Aura
Aura may occur before or during migraines. Most people experience migraines without aura. Auras are symptoms of the nervous system. They are usually visual disturbances, such as flashes of light or wavy, zig-zag vision.
Attack
A migraine usually lasts from 4 to 72 hours if untreated. The frequency with which headaches occur varies from person to person. Migraines may be rare, or strike several times a month. During a migraine, throbbing or pulsating pain on one side or both sides of the head, sensitivity to light, sounds, and sometimes smells and touch, nausea and vomiting, blurred vision and lightheadedness, sometimes followed by fainting.
Post-drome
The final phase, known as post-drome phase, occurs after a migraine attack. Feeling of drained and washed out, with small percentage of people feel elated. For about 24 hours, confusion, moodiness, dizziness, weakness are experienced.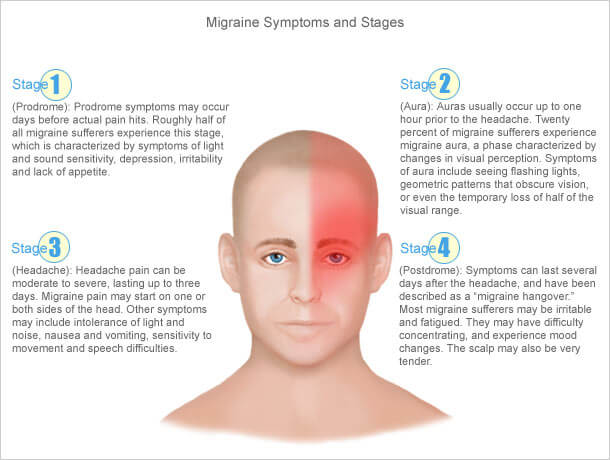 Ayurvedic Description Of Migraine :
The traditional science of Ayurveda does not regard migraine as a case of prolonged headaches. On the contrary, it considers this condition to be caused by deep-rooted problems, including a sensitive nervous system and impaired digestion. Improper diet and lifestyle causes aggravation of Pitta in the body. In this aggravated state, Pitta impairs digestion, leading to the production of digestive impurities or toxins (known as Ama). This Ama gets stored in the Manovahi Strotas (mind channels), thereby becoming the cause for migraine.