The low sperm count in a male's semen is called oligospermia. The complete absence of sperm is called azoospermia. The sperm count is considered to be lower than normal if the sperms are fewer than 15 million/mm3 of semen. Having a low sperm count decreases the chances of female's egg fertilization and inability in pregnancy. The production of sperm is a complex process and requires normal functioning of the testicles as well as the hypothalamus and pituitary glands. Once sperms are produced in the testicles, delicate tubes transport them until they mix with the semen and are ejaculated out of the penis at time of copulation. Any problem in this process can affect sperm production. There can be problems in sperm shape (morphology), movement and function.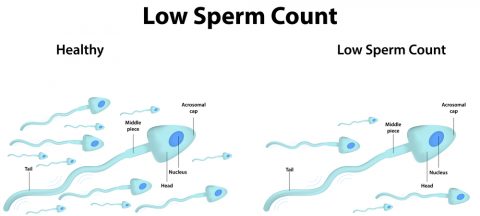 Ayurvedic Description Of Oligospermia :
As per Ayurveda, oligospermia can be correlated with Shukra kshaya. Although none of the standard Ayurvedic texts have mentioned about the sperms count or motility of sperms but there have been references about the quality of semen in the form of Shuddha Shukra Lakshans. In Ayurveda, healthy semen is said to be fertile and is described as white, heavy, sticky, sweet in taste, more in quantity and which may look like the color of ghee, or oil.