Headache is a pain anywhere in the head and neck region. It can occur as a result of a number of conditions and by a range of ailments, which may include tumor, migraine, sleep deprivation, stress, tension, injury, viral infection etc. The brain itself does not have pain receptors but other areas of head and neck have pain receptors. The headaches originating in the areas of the head directly are primary headaches and the headaches arising due to any other illness are called secondary headaches.
International Headache Society has divided headaches as primary and secondary depending on their causes. Whereas primary headaches are benign; not caused by some underlying disease or structural problems, they cause slight to moderate difficulties in daily life, secondary headaches are caused by underlying conditions such as an infection, head injury, vascular disorders, tumors. Secondary headaches can be harmless or dangerous.
Primary Headaches
The majority of the headaches are primary headaches and happens more in the age group of people between 20-40 years. The most common types are migraine and tension type headaches. Migraines typically present with pulsating head pain, nausea, photophobia, phonophobia. Tension type headaches usually present with non-pulsating bandlike pressure on both sides of the head, not accompanied by the other symptoms. Other very rare types of primary headaches include cluster headaches that have short episodes of 15 to 180 minutes with severe pain, trigeminal neuralgia that gives shooting face pain.
Secondary Headaches
Secondary headaches may be caused by the problems elsewhere in the head or neck. Some of these like cervicogenic headache are not harmful. Those using excessive painkillers for headaches get medication overuse headaches. Meningitis, bleeding inside the brain (intracranial hemorrhage), subarachnoid hemorrhage (acute, severe headache, stiff neck without fever), ruptured aneurysm, arteriovenous malformation, brain tumor, dull headache, accompanied by nausea and vomiting are some of the causes of secondary headaches.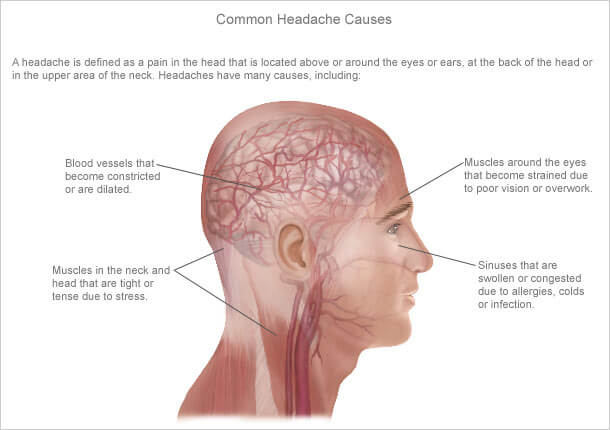 Ayurvedic Description Of Headache :
In Ayurveda, it is believed that headache is caused due to aggravation of Pitta in the body. In an aggravated state, Pitta impairs digestion, leading to production of Ama or toxins. This Ama gets stored in the Manovaha strotas (mind channels), thereby becoming the cause for headache. In chronic stages, the blockage of Manovaha strotas by Pitta dosha leads to the destruction of the Ojas (energy) in the body. This Ojas is the essence of all body tissues and provides strength to the nervous system and body.