A peptic ulcer or peptic ulcer disease results from the breakage in the lining of esophagus, stomach or duodenum. The ulcer of stomach, duodenum and esophagus are called as gastric ulcer, duodenal ulcer and esophageal ulcer respectively. The peptic ulcers occur when the lining of these organs is corroded by the acidic digestive juices.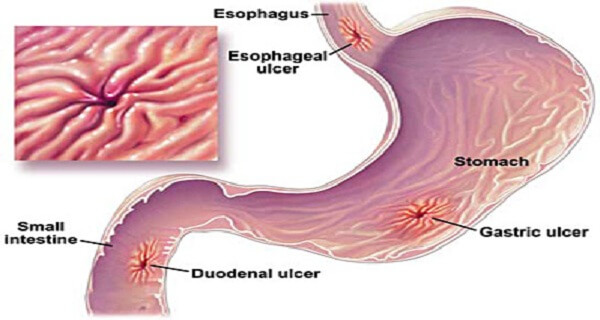 Ayurvedic Description Of Ulcers:
In Ayurveda, Peptic Ulcers can be correlated to Parinaam Shula and Anna-drava Shula. They are the subtypes of Shula. Shula is the Sanskrit term for pain or colic. Parinama shula closely resembles with duodenal ulcers while Annadrava Shula closely resembles gastric ulcers. All types of pain have predominance of vitiated Vata. The condition of Parinaam shula is caused when shleshma or kapha in the stomach dislodges from its place and get mixed with Pitta. The vitiated Vayu further displaces them and causes severe pain during the digestion of food. Anna means food and drava means liquid, the pain (colic) which is associated and aggravates with food and liquids is called Anna-drava shula. It begins after the digestion of food, during the process of digestion and remains constant.