The swollen veins in the lowest part of the rectum and anus are called hemorrhoids. These swollen hemorrhoids are also called piles. Though the hemorrhoids are rarely dangerous, they can cause a lot of irritation and discomfort to the patients. So, a consultation to the specialist is required to see if it can be managed conservatively or through surgery. The two types of hemorrhoids are internal hemorrhoids and external hemorrhoids. Internal hemorrhoids cannot be seen or felt and less pain causing, bleeding may be the only sign for them to be noticed. The external hemorrhoids are beneath the skin around the anal area and this area has more pain-sensing nerves. So, the external hemorrhoids hurt more and bleed also. If bleeding stays for a longer period of time in piles, it can cause anemia.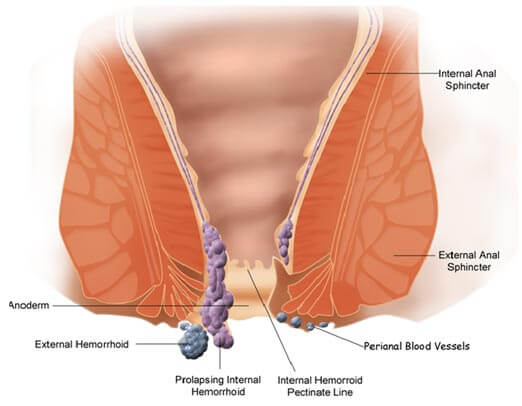 Ayurvedic Description Of Piles:
Piles are known as 'Arsh or Arsha' in Ayurvedic literatures. The literal meaning of Arsh is 'enemy'. The disease is truly an enemy of the individual who suffers from it. There are 3 major veins surrounding the anal canal as per Ayurvedic texts. These are known as ' Samvarni, Visarjani and Pravahani.' After these major veins there is an external anal opening. These veins/arterial meshwork surrounding the anal canal swells up and protrude out if there is too much strain inside the anal canal. They can be dry (non-bleeding) or bleeding whenever there is injury during the defecation.