Ayurvedic Treatment of Pancreatitis
The inflammation of the pancreas is called pancreatitis. The pancreas produces enzymes that assist in the digestive process, produces glucagon and insulin hormones that help in regulating the way your body processes sugar (glucose). The condition of pancreatitis can occur as acute pancreatitis that appears suddenly and lasts for some days or pancreatitis can occur as chronic pancreatitis, which occurs over many years. Mild cases of pancreatitis may go away without treatment, but severe cases can cause life-threatening complications.  In pancreatitis, pancreatic digestive enzymes are activated before they are released into the small intestine and begin attacking the pancreas, causing inflammation and show the signs and symptoms of pancreatitis. With repeated bouts of acute pancreatitis, continuous damage to the pancreas occurs and leads to chronic pancreatitis. A poorly functioning pancreas can cause digestion problems and diabetes.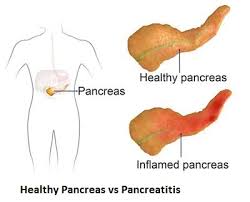 Ayurvedic Description Of Pancreatitis:
In Ayurveda, the pancreas is also known as 'Grahani' or the seat of Agni (body fire) in the body. Pancreatitis in the initial phase is an imbalance of Vata-Pitta leading to aggravation in digestive fluids situated in pancreas, and in chronic stage there is some degenerative changes observed.