Allergic Rhinitis or 'hay fever' occurs due to the exposure to allergens like pet hairs, pollens, dust, etc. resulting in the inflammation of the inner lining of the nose. The classical sign of allergic rhinitis is rhinorrhea (excess nasal secretion) and it can be seasonal as well as perennial. The seasonal allergies last only in particular seasons or during pollination period while the perennial allergies develop throughout the year.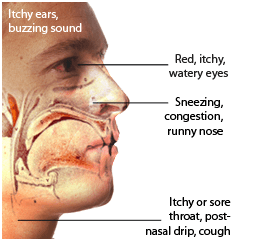 ---
Ayurvedic Description Of Allergic Rhinitis:
Ayurveda defines Allergic Rhinitis as Vata-Kaphaj Pratishaya (rhinitis involving Vata and Kapha doshas). It is the result of impaired digestion and metabolism from the incompatible food combinations and wrong diet, which affects the Rasa and the Rakta dhatus. Thus, leading to Rhinitis or Pratishyaya, as Vata and kapha doshas are involved in the pathogenesis, this particular form of Pratishyaya is called Vataja-Kaphaja Pratishyaya.
---