Cardiac diseases are referred to the any kind of diseases that affect the heart or blood vessels, which may include conditions like angina, coronary artery disease, myocardial infarction, cardiac dysrhythmias, heart failure, stroke, carditis, rheumatic heart disease etc. Most of the cardiac diseases are preventable if the patients pay enough and early heed on them. Most of the countries, which include both, developed and developing; the CVDs are posing a huge economical burden on societies. They are also the leading cause of death across the globe.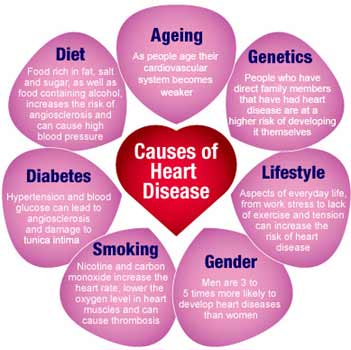 ---
Ayurvedic Description Of Cardiac Diseases:
All the cardiac diseases in Ayurveda are classified under Hrida Roga. All kinds of coronary artery diseases come under Sira (vessels) dushti, which are caused by Rakta vikriti. When Rakta vikriti is due to Pitta, the permeability of blood vessels increases. When it is due to Kapha, the coagulability of blood increases, and atherosclerotic diseases occur. If the Raktavikriti is due to vitiated Vata, it mainly affects the rhythm of heart and cardiac arrhythmia or impulse conduction disorders may develop. According to Ayurvedic pathology, there are five types of Hridroga: Vataj, Pittaj, Kaphaj, Sannipataj and Krimij Hridroga.
---