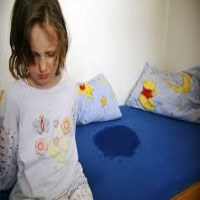 Bed-wetting or Enuresis refers to the repeated inability to control urination. It is a common pediatric disorder and can occur either during the day (diurnal enuresis) or at night (nocturnal enuresis). Enuresis is divided into primary and secondary forms.
Ayurvedic Description Of Bed Wetting
In Ayurveda, Enuresis is described as 'Shayyamutra'. The word meaning of Shayyamutra simply means urinating during the night while lying in the bed. The Apana Vayu controls the active excretion of urine but when Apana Vayu gets vitiated due to its encircling with Kapha during the developmental stages of a child, which in turn results in the loss of control in Micturition or Shayyamutra.
Signs/Symptoms –
Wetting during the day/night
Increased urine frequency
Burning micturition
Cloudy or pinkish urine
Causes and Risk Factors
1. Small bladder- Inability of a child's bladder to develop fully enough to hold urine.
2. Inability to recognize a full bladder- If the nerves that control the bladder are slow to mature, a full bladder may not wake the child especially if the child is in deep sleep.
3. Hormone imbalance- During childhood, some kids do not produce enough antidiuretic hormone(ADH) which slows urine production at night.
4. Stress – Stressful events such as starting a new school, or sleeping away from home may also trigger bed-wetting.
5. Urinary Tract Infection- UTI can make it difficult for the child to control urination. This may include bed-wetting, frequent urination, red or pink urine, and pain during urination.
6. Diabetes- For a child who's usually dry at night, bed-wetting may be the first sign of diabetes. This may include passing large amounts of urine at once, increased thirst, and fatigue.
7. Chronic constipation- In constipation for a longer duration, the muscles, which control urine and stool elimination can become dysfunctional and contribute to bed-wetting at night.
Self Care Tips
Reduce evening fluid intake. The child should try not to take excessive fluids, chocolate, caffeine, carbonated drinks, or citrus fruits/juice after 3 p.m.
Make sure that the child should urinate in the toilet before going to bed.
Set a goal for the child of getting up at night to use the toilet. Help the child understand that it is more important to wake up every night to use the toilet.
Make sure the child has safe and easy access to the toilet. Clear the path from his or her bed to the toilet and install night lights. Provide a portable toilet if necessary.
Avoid using diapers or pull-ups at home because they can interfere with the motivation to wake up and use the toilet.
Avoid blaming or punishing the child. The child cannot control the bedwetting; blaming and punishing will just make the problem worse.
Reassure and encourage the child often. Do not make an issue out of the bedwetting each time it happens.
Bed-wetting is a common health complaint among children these days. We aim at correcting vitiated Apana Vata, target the underlying causes and counsel the kids along with a few other techniques to successfully treat this problem.