Benign Prostatic Hyperplasia (BPH) or Benign Enlargement of Prostate (BEP) is a non-cancerous increase in size of the prostate gland. Globally, BPH affects 6% of the male population and is the most common cause of lower urinary tract infections. Role of androgens (male sex hormones) is suspected in the development of BPH while according to other researches, it is an age-related disease and is developed due to fibrosis and weakening of the muscular tissue in the prostate.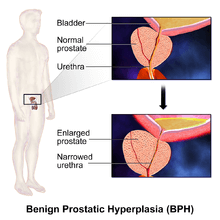 ---
Ayurvedic Description Of BPH:
Ayurveda believes that the enlargement of prostate is caused by vitiated Apana Vayu due to the suppression of urges to urinate and defecate, overindulgence in sexual activity, consuming dry and cold food, old age, general weakness and indigestion.
---