Osteoporosis is a condition characterized by the decreased bone density, resulting in bones that are more porous and more easily fractured than normal bones. The fractures of wrist, spine, and hip are quite common; still, all of the bones can get affected. The condition primarily affects women, who account for nearly 80 percent of all the cases. The most common form of the disease is primary osteoporosis, includes post-menopausal or estrogen-deficient, osteoporosis (Type I), which is observed in women whose ovaries have ceased to produce the hormone estrogen. Age-related osteoporosis (Type II), affects those over the age of 70 and the third is idiopathic osteoporosis; a rare disorder of unknown cause that affects premenopausal women and men who are middle-aged or younger. The secondary osteoporosis may be caused by bone disuse as a result of paralysis, weightlessness in space, endocrine and nutritional disorders, including anorexia nervosa, specific disease processes, and certain drug therapies.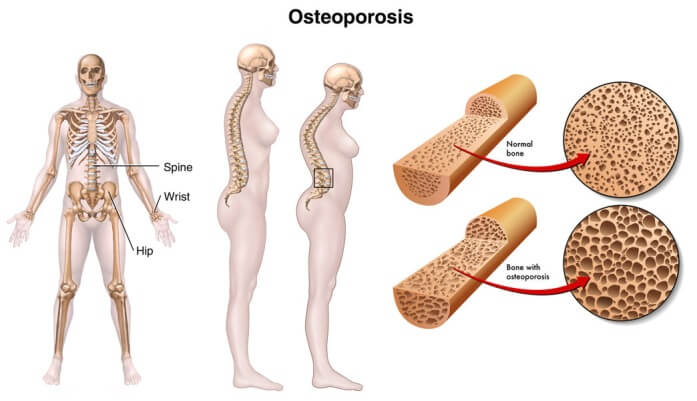 Ayurvedic Description Of Osteoporosis :
According to Ayurveda, osteoporosis is a Vata disorder, which is caused due to Kshaya or depletion of Asthi dhatu or bone tissues in the body. Since it is a Vata disorder, cause of depletion could either be nutritional deficiency or the toxins build up in the Asthivaha strotas or bone formation channels.