The condition of irritable bowel syndrome is also known as spastic colon. It is a common chronic disorder of the large intestine. The diarrhea associated with IBS is not true diarrhea in the sense as there is no increase in stool volume. The patients of IBS sometimes pass mucus with stools and have a sensation of incomplete evacuation of the bowels following defecation. Recurring IBS has been associated with stress, although abdominal distress is a common reaction to anxiety in many people who do not suffer from IBS.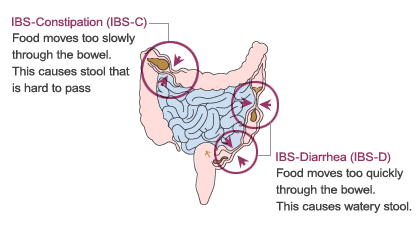 Ayurvedic Description Of Irritable Bowel Syndrome :
In Ayurveda, a similar condition is explained in the name of Grahani or Sangrahani. Usually, irritable bowel syndrome is triggered by a stomach event such as stomach infection, a bout of unhealthy meals, a stressful event, etc. But due to vitiation of Samana Vayu in intestines, the digestion of food is hindered and intestines fail to perform their normal functions. Ayurveda explains signs and symptoms of IBS based on dosha dominance-
Vataja Grahani- Abdominal pain, increased frequency of stool, altered bowel habit, distention of the abdomen, flatus, headache, debility, chest pain etc.
Pittaja Grahani- Burning of the chest, belching, headache etc.
Kaphaja Grahani- Stool with mucus, sensation of incomplete evacuation of the bowel, nausea, vomiting, flatus, heaviness of abdomen.
Sannipatik Grahani- All the three Doshas are involved, mixed features of all the doshas, lack of concentration, severe debility. This stage is also called as Samgrahani and takes quite a lot of time and patience to manage.