Eating Curd: How to Do it Safely and Smartly?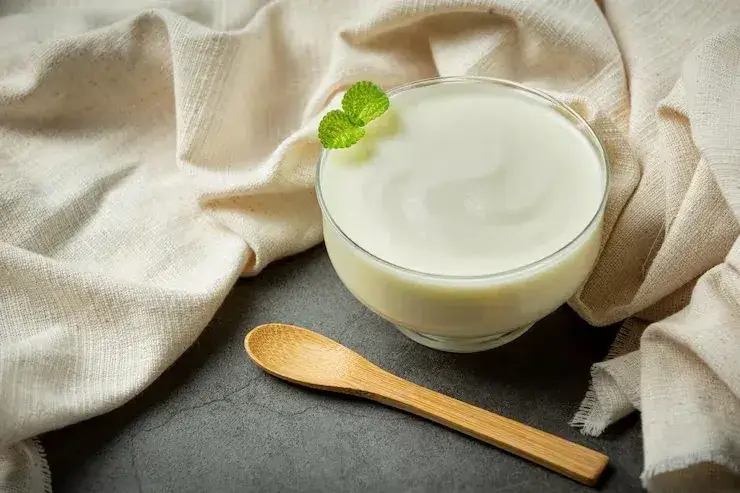 Deep apologies at the outset for breaking your heart if you are a curd lover and love to consume it daily in the springs and summer. Well, it's not your fault actually as for decades we have been told that it contains protein, minerals, lactobacillus, probiotics etc.
In the last few years, we gave all impetus to calories, and nutrition while ignoring the fact of how certain foods behave with our gut and their result post the process of digestion, absorption, and assimilation in our body. Curd is high in protein, low in carbohydrates, and rich in vitamins and minerals. It is good for the digestive system when taken judiciously, helps keep the gut healthy, and is good for skin and hair.
Despite having such qualities, the use of curd comes with few caveats and is highly advisable to be avoided in certain medical conditions which we shall discuss here briefly. While some dairy foods like Chaach (fat-removed buttermilk) and desi Ghee improve digestion and certain dairy products such as Cheese, Milk, and Curd are heavy to digest. The source of curd can be cow's milk, buffalo's milk, and goat's milk and thus the properties of curd vary from the sources you get it from.
Qualities of 'Curd' As Per Ayurvedic Samhitas
According to the ancient Ayurvedic textbook of 'Bhojan-kutuhalam,' the curd has five degrees/levels of taste according to its state of processing and they are as follows-
1. The newly formed curd which doesn't get its proper shape is very slow in its action and can aggravate conditions such as excessive urination, indigestion, and burn.
2. The second type of curd comes when it is prepared fully and settles down to eat, the taste of this curd is sweet, thus it helps in increasing body fat and weight. So, people fighting overweight can understand why curd should be avoided if they wish to shun weight.
3. The third type of curd is when you keep the above type of curd for a brief small period and wait for it to become sweet and sour or 'Swadu-Amal'. This type of curd has almost the same properties as the sweet curd mentioned above except for the sweet and astringent tastes. People who are battling any type of bodily pain should avoid this type of curd.
4. The fourth and fifth taste is 'Amal' or sour and excessive sour respectively. This happens when the curd is kept for a longer period. This type of curd increases acidity in the gut and people with already an acidic gut can face issues such as hyperacidity, GERD, periodic body burns, headache, urticaria, psoriasis, and other blood disorders due to its result being of having sour properties.
These five types of curd according to their state of ripening is very imperative to know since they can aggravate your medical condition or give rise to new health issues.
Since the modern urban lifestyle seldom gives us the time to make our curd at home, we buy processed, preserved curd from the market. The curd from the market has a taste and properties of the types mentioned under the type fourth and fifth.
Now, pause here and think why most of the urban people are complaining of acidity, gut issues, seasonal woes of cold and cough along with various skin conditions. Curd being Abhishyandi (channel blockers) block the micro-channels in the body and makes it very difficult for people struggling to lose weight, which further makes it difficult to decrease sugar levels in the body or reverse diabetes also.
What Does Curd Do in the Body?
Curd we get from the market is mostly sour in taste and its converts into acid on digestion. It is heavy and has the property to retain everything in the body i.e., water, toxins, nutrients etc. Though it reduces 'Vata' but it has the property to increase visceral fat, and aggravate Pitta and Kapha, Rakta (Blood), and Agni (fire).
It also increases inflammation in the body by increasing the Kapha and Pitta doshas and causing occlusion in the internal systems leading to the generation of toxins which further remains the reason for the development of many diseases and disorders. Therefore, you see people complaining of pain aggravation, stiffness, and swelling of muscles and joints after eating curd, curd rice, and products of curd.
How Should Curd Be Consumed?
As the old saying goes "Excess of everything is bad". The balance for everything should be maintained in life. For consumption of any food articles, there are some Dos and Don'ts to be followed along with who, when, and how to be answered. This who, when, and how is largely related to the people (patients), time, and career of curd. Some of the quick easy and ready points for your reference are as follows:
The curd should be fresh and fully ripened and should not be kept for a longer time. Consuming the same-day formed curd is good for health and won't be troubling the health issues stated above.
Refrigerated curd should be avoided even though it pleases the senses and gives a coolant effect but the quality of curd is Ushna or Hot.
Not the sour one and not during the night-time.
The best seasons to consume curd are Hemant (Pre-winters), Shishir (Winters), and Varsha (Monsoon/Rains).
Curd should be avoided in the seasons of Vasant (Spring season), Grishma (Summer), and Sharad (Autumn).
Curd should not be consumed at night as it aggravates 'Kapha' and leads to upper respiratory tract health issues and also makes it difficult to lose weight.
Curd is recommended to be taken along with green/yellow moong lentils, honey, ghee, mishri (raw and UNREFINED sugar), or with Aanwla (Indian gooseberry).
Curd should be taken with Saindhav salt, cardamon, and black pepper.
Finally, curd should not be heated. Therefore, modern-day snack meals such as Dahi-Kabab, and Dahi k Sholey can further harm an already troubling gut.
The fine storyline boils down to the one key takeaway that curd is not recommended for people with a weak digestive system, who suffer from acidity, indigestion, acid reflux (GERD), and people who are on a weight loss journey, diabetes, and its related complications. Curd can make diabetic foot, and venous ulcers a really bad and painful condition.