Learn How 'Diabetics' Can Enjoy Sweets This Festive Season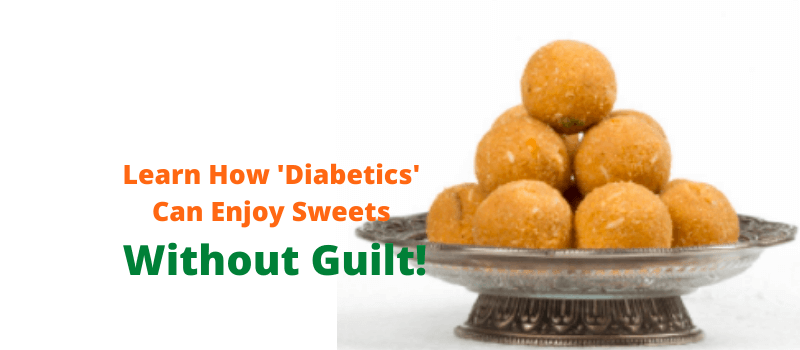 'Sweets' is the word people with diabetes fear a lot. Some do not eat, fearing it, and some eat them with fear. But, if you understand your gut more wisely and know your Ayurveda Prakriti type, you can still eat Diwali sweets without any guilt.
But how? Read on-
Ayurveda emphasises the role of three doshas behind everything, from treatment to planning your regimen. These three doshas are called 'Vata, Pitta and Kapha' if you are familiar with them, and if not, it is time for you to gather some information on them. To begin with, before the saliva drools in your mouth, you need to know what type of sweets may work for you and what type of sweets you should not have during the festival season.
People who are predominantly lean and thin have 'Vata' Prakriti should think of eating sweets made of Dry fruits like almonds, Sesame laddu, Banana Burfi, Atta Laddu. Dry fruits are a good source of natural fats, amino acids, plus they will not raise your harmful cholesterol levels.
Diabetics people who have 'Pitta Prakarti' and experience hot flashes and body heat should have sweets made from Desi Ghee, Aanwla burfi, milk products like Rabri, Rasmalai, and Paan burfi. Most of these are natural coolants.
People with diabetes who have 'Kapha Prakriti (and majorly type2 diabetes have this type of Prakriti) ' should have sweets made from multigrain atta laddu, methi laddu, clove and black pepper as they do not allow mucus to be formed in the body.
Precautions While Having Sweets Mentioned Above
Make sure they are HOMEMADE; the stuff you make at home, by all means, will give a sense of healthy happiness other than sweetness you watch others having from a distance. The simple reason for this is that the sweets from the market usually have an excessive quantity of refined sugar, refined oil, white flour, and the body will not process this much amount of sugar coupled with other ingredients. This will also give you sudden unusual spikes of high blood sugar than the usual ones.
Add healthier options in your sweets like jaggery, desi Khand, cardamom, clove, black pepper in your sweets as they give an aroma to your olfactory senses and can compensate for that extra sugar cravings easily( Do try it this time if you have not ever; it works and gives a feeling of satiety and calmness).
Avoid sweets with artificial and refined sugar with saturated fat content or are made from yeast fermentation and preservatives. Some of the examples could be pastries, cookies, packaged juices, sweets and chocolates.
Eat portion-controlled sweets as excess is wrong, but moderation is the key. Eat your sweet judiciously with a controlled portion with sweets that have low glycemic indices.
The concept of 'intermittent fasting is a modern fad, but Ayurveda since centuries recommends the principle of "लंघनं परम् औषधं": which means 'FASTING IS THE BEST MEDICINE. This will also reinforce your efforts to reverse diabetes which means you should eat at need, not at will. Fasting post-festival season or a seasonal detox can help you rib off sin from sweets if there are any.
Sweet Caveat: So, now, as you plan to eat sweets this festival season, you must follow the 'Earn but Burn' principle that has worked with my health seekers. Eat without creating guilt and burn those extra calories with all might.
Dr. Bhupesh Vashisht is an Ayurveda consultant who has skilled himself in creating a healthy journey for diabetic people that help them in 'Reversal of Diabetes' to live a medication-free life. He can be reached at [email protected] / 9393000083