Why Are You Not Losing Weight?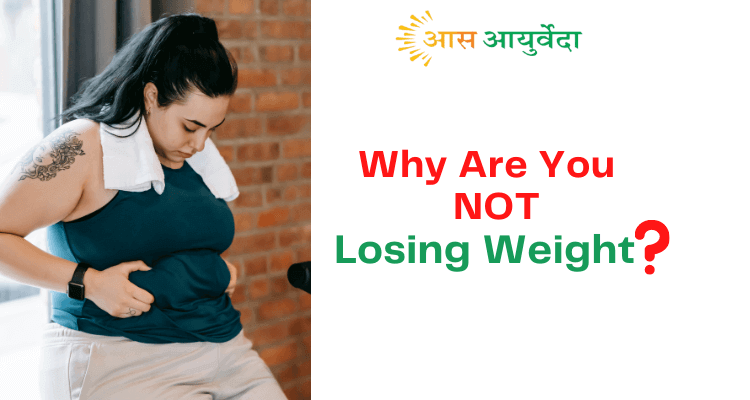 Weight loss is a journey, and like so many other journeys we beat in life, it too sees some ups and downs. While some achieve and enjoy this journey, some stop it even before kick-starting it.
Why weight loss might not be working for you, or you give it up every time after starting it. There could be many answers which vary from individual to individual, but some of the human behavioural issues that are commonly seen on a weight loss journey for a person are:
Let's understand the behavioural aspects that are holding your weight loss journey
1. Meals
Meal is the real 'Deal'. Nature asks us to live in moderation, and the same was explained to Arjuna by Lord Krishna in the following verse of Gita-
युक्त आहार विहारस्य, युक्त चेष्टस्य कर्मसु। युक्त स्वप्ना-व-बोधस्य, योगो भवति दु:खहा।।
He who is temperate in his habits of eating, sleeping, working and recreation can mitigate all material pains by practising the yoga system.
Suppose your health coach/guide/mentor asks you to drink some syrups and shakes to lose weight. It would be beneficial to shun this idea as you would soon lose healthy fat, glow from your body if not senses and these crash diets can expose you to a high risk of cardiac ailment, gall bladder stones and leaving your skin dull without lustre.
Note to the self- Check yourself what you are doing right now is sustainable and making you happy; if the answer is 'Yes,' it is your game else not.
2. Monday
Some stuck with every new year resolution and some with 'Mondays'. Most of the people who struggle to lose weight are the ones who either postpone it for the following Monday, next month, and some super patient ones hold it for the next year resolution. But, we all know what we did with our last year's resolution? The research shows that many people pledge to start a gym every year in 'January' as a new year's resolution, only to break their pledge the following month in February. Science says that while you can make a routine in twenty-one days, you need to adopt that routine for six months to make it a lifestyle. So, pause a bit here and think how many times your weight loss journey took this halt before the completion of six months.
Note to the self– 'Monday' or next 'Month' never comes, the good day is TODAY, and the right time is RIGHT NOW.
3. Motivation
You are searching for some motivation; if that is the case, consider getting healthy life like a daily bath and do everything to achieve it daily. You don't need the Motivation to bathe as you consider it a ritual in your daily life; then why do you need the Motivation to lose those extra kilos and inches? Isn't it something that should come naturally to you if you are struggling to be fit? If you think more pensively, do you still need external Motivation (If I tell you that you might have diabetes, hypertension, breathing disorders, and cardiac diseases) if you procrastinate with your weight loss journey?
Note to the self – Have a daily regimen for getting fitter; weight loss will be a by-product of this regimen and routine.
4. Metabolism
Your metabolism is slow, and you do nothing to pace it up. The basal metabolic rate (BMR) is the amount of energy needed while resting in a temperate environment when the digestive system is inactive. It is the equivalent of figuring out how much gas an idle car consumes while parked. So, it is crucial what kind of exercises you do to increase your BMR to burn that extra gallops of fat on your body. Since some workouts burn muscle mass, promotes fat loss, while some do not. So, chances could be that you must be doing some workout that is not working for you or not meant for you. This is precisely happening in the cases where aerobics may not be bringing results for you, and you are yet to realise this.
Note to the self– Spend time knowing your body and its specific needs as the wrong workout is as bad as doing NO workout.
5. Mindfulness
We do extremes when we are not centred around our being. So, if you often find yourself a little weak in dealing with binge eating, uncontrolled eating bouts during those wee hours, late dinner parties. Then, other than a ready list of healthy snacks, ask yourself before eating anything if that particular meal is healthy for you or not; if not, then do not eat. Stopping then and there will boost your conviction and makes you a meditative human being as you just made an informed and aware decision. Remember, the healthy journey goes beyond inches and kilos and to get something ideal; you have to beat a path which could be a jig-saw puzzle or crest and trough of physics.
Note to the self– Weakness lies in the mind, not in the body.
Lastly, no matter how many times you have given up on your goal, align it with a timeline this time and achieve the unachievable for a better and healthy tomorrow. START NOW!