Asthma is a respiratory lung disease characterized by inflammation and narrowing of bronchioles due to the excessive secretion of mucous. It can be triggered by exposure to an allergen, irritants in the air or extreme weather conditions.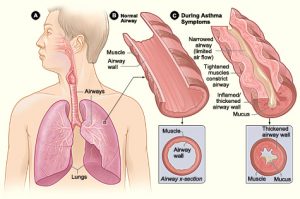 ---
Ayurvedic Description Of Asthma:
In Ayurveda, Asthma has been classified under Shwasa Roga. When both Prana Vayu and Kapha get vitiated, they produce obstruction in lungs and hence, in the respiratory passage. This condition is known as Shwasa Roga or Asthma.
---