Sinusitis is an inflammation of the mucous membranes of the Para-nasal sinuses located around the nose. The sinuses are cavities within the face bones; connected to the nose. These cavities make the skull light. The sinuses normally are filled with air and communicating with the nasal cavity, produce more than 500 ml of fluid secretions per day from the mucous membrane that lines them. The para-nasal sinuses include the frontal sinuses, in the forehead, the ethmoid sinuses, between the nose and eyes, the sphenoid sinuses, behind the eyes and the maxillary sinuses, under the eye sockets. The common colds also progress to sinusitis. The exposure of contaminated water also causes infection if is introduced into the sinuses.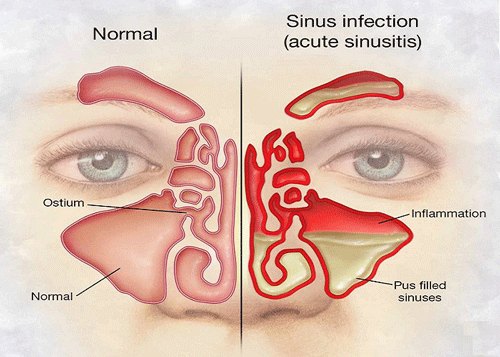 Ayurvedic Description Of Sinusitis :
It is compared as Shiro-shoola or Shiro-roga. These can be Krimaj (due to microorganism), or due to Kapha Shiro-Roga (phlegm in sinuses).  The Sannipatja Shiro-shoola is caused by the aggravation of all the tridosha. Another form of sinusitis is known as Suryavrata in Ayurveda and it resembles with maxillary sinusitis. The symptoms especially headache follows the diurnal course of the sun, at sunrise; the patient has mild pain in head, eyes and eyebrows. At the mid noon, as sun goes intense, the pain too increases and gradually worsens but with sunset, the pain typically comes down.